Samsung Design Thinking
---
Samsung Design has been trying to build its own design process. The goal was to enable designers to design in a systematic manner with a unified process. So we started working on a project called 'Samsung Design Thinking'. We have established 4 steps design process and created symbols. Also we designed overall branding, such as posters and banners.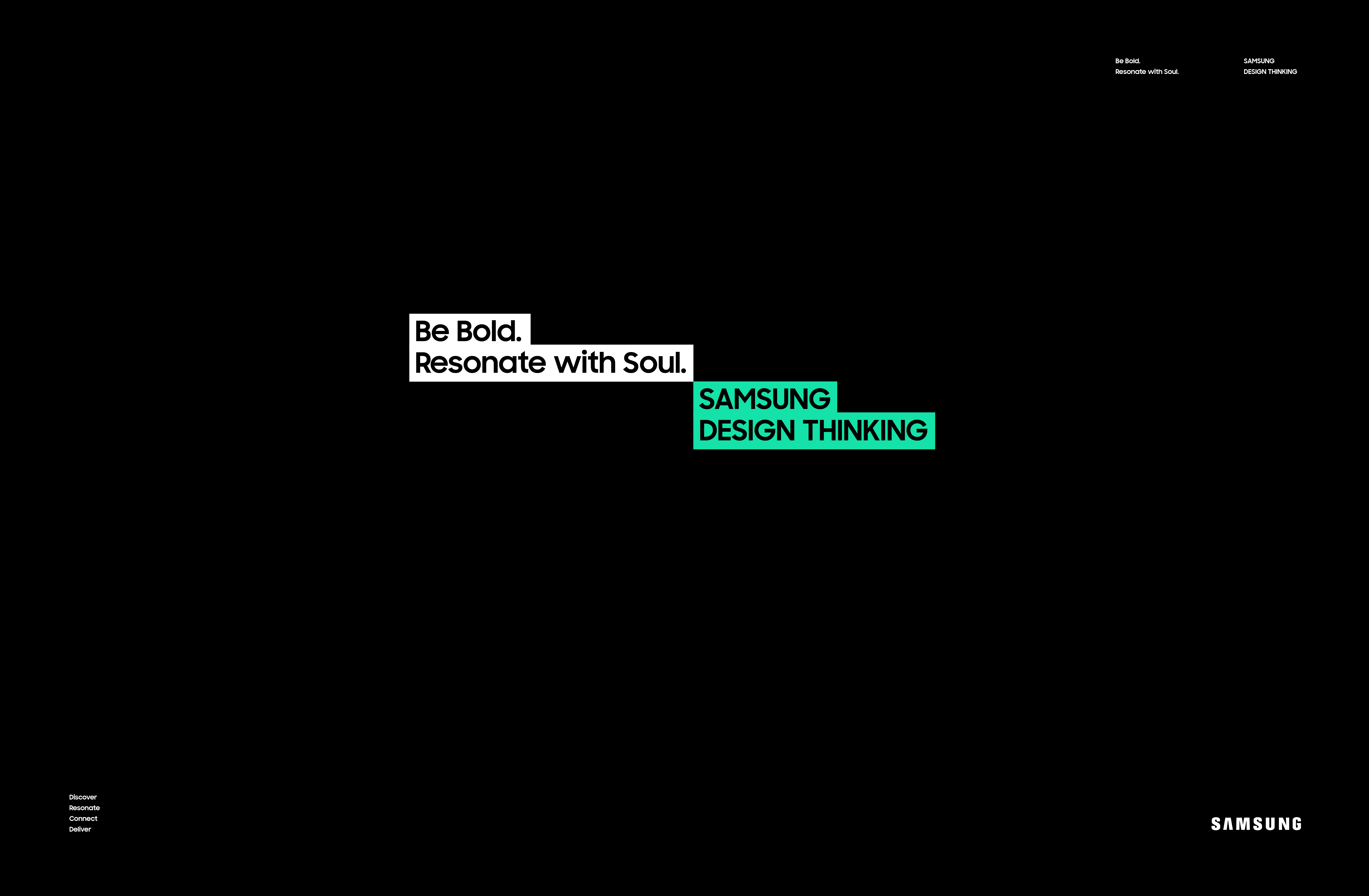 Global companies have their own design methodologies. Samsung also tried to set up its own design process. The new design process serves to integrate Samsung's design methods, which have been conducted in many different ways. It is significant for designers to design with a unified process. Not only it can improve communication, but also directly convey Samsung's main value.

This process is in 4 steps. First, discover. This is the stage where designers discover new values based on their empathy with users. Second, resonate. This is the stage to develop new values after discovering them. In this step, designers define it as a design concept that touches people's heart. Third, connect. Various tests are conducted here. So the new concept can connect well to a design solution. Finally, delivery. This is a step to ensure that the intended value is delivered to the user. At this stage, we consider that it can actually be mass-produced in real life, not in ideas.
A pamphlet was created to explain Samsung's new design process to in-house designers. It contains a description of each of the four symbols and processes. The pamphlet is designed to be folded twice, carried or spread out to see the whole.
---
'Samsung Design Thinking' was a big announcement even in the company. Introducing the new process to designers and the methodology containing Samsung's vision was an important event. So we installed posters and banners all over the company building so that people could continuously recognize 'Samsung Design Thinking'.

The design thinking process will also be distributed to global design branches as well as South Korea. So, I made a poster to help people understand and promote 'Samsung Design Thinking' around the world.


This poster is more intuitive than the pamphlet previously introduced. The pamphlets were distributed after the announcement by the head of the design center, but this global poster is because people need to be able to understand design thinking by just looking at posters.